The Baseball Hall of Fame ballots for the Class of 2013 will be released today. It's always fun as a baseball fan to debate who should be in or out. It usually goes
something like, "if Phil Rizzuto is in, then so and so HAS to be in doesn't he?"
There is still some fun to be had with those debates, particularly with guys I grew up watching, like Jack Morris, Tim Raines, and Dale Murphy, who hope to get the
call today. (Side note: I once traded a Dale Murphy rookie card at the height of his career to my best buddy who was a big Braves fan. He was just starting his
collection and I was trying to get him interested in baseball cards. I raided his shoebox filled with random cards and picked up about 25-30 "commons" that I
needed to fill out my sets I was working on. These scrubs included names like Alex Trevino, Rennie Stennett, Ron Oester, and Juan Eichelberger. This ranks up there
with some of the worst trades ever made, including Larry Bowa and Ryne Sandberg for Ivan Dejesus. But such is life)
But unfortunately these discussions -which should be so much fun- are now clouded because of the Steroid Era. The bigger story today won't be whether
Morris gets in or not, but what percentage of the vote Barry Bonds and Roger Clemens get in this—their first year of eligibility. (More here)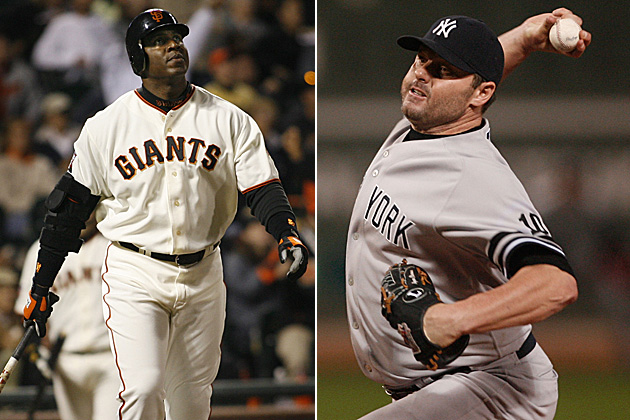 Photo: CBSsports/Getty Images
The voters now can't just look at the numbers, draw upon their experiences and cast their ballots. Now they have to factor in the whole steroid issue. Not an easy
thing to do. There are lots of viewpoints, but count me in with Tom Verducci of Sports Illustrated. Verducci is one of the finest baseball writers out there, and also
a breakthrough journalist in uncovering the many layers of steroid and PED usage in the majors. He has highlighted 3 types of players in various stories, all who have
skewed the game from different angles to create the tainted era:
A) Dan Naulty- minor leaguer who would have never made it had it not been for the full commitment to steroids (this story is a must read).
B) Ken Caminiti- solid but unspectacular major leaguer who becomes a star. (the breakthrough cover story in SI which started it all.)
C) Barry Bonds- a superstar who becomes something beyond human (a mutant from X-Men?).
Verducci's feeling is that he will never vote for any player who is a known steroid or PED user. His tremendous take is here.
The reason I agree with Verducci is because I was one of those players who could have had my life altered by the decision to use. I could have juiced. For those that
don't know, after graduating from Vanderbilt I was drafted by the Blue Jays and played two years of minor league baseball (1993-94). See my mostly lousy stats
here (notice they spelled my first name wrong).
Let me say this up front: I never was really presented with a choice. I never thought to go seek out someone who could "hook me up", and I never had another player, trainer, or coach come up to me at the field or away from it and offer me the chance to juice. The juicing was just starting to go on around me, but it wasn't as mainstream as it would be come 2-3 years after I was released. So perhaps my choice wasn't as difficult as it could have been.
But I fit the profile: smooth swing, good hands, good eye, could make contact. Had size (6'3) but lacked strength and power. Look at two stats: Home Runs: 1(Butte, Montana—absolute bomb to dead center by the way. Even if it was in high altitude). But look also at my ability to make contact—more walks than strikeouts for my career. My .383 OBP led the Medicine Hat "Baby Jays" in '93 (an interesting year in Toronto Blue Jays history).
So what if I had juiced in the way that Naulty, Caminiti, and Bonds did? Had access to the same stuff. Worked hard as any professional player would have. What would have been? I had 375 professional AB's and hit .229. But remember, I put the ball in play at a good rate- I just had no power. Just 27 hits over those two seasons would have put my average at .301. How many of those hard grounders get through for hits if I'm on the juice? How many of my fly balls carry over the fence instead of dying on the
warning track? How many line singles become gappers? Remember—all I need are 27 extra hits over two seasons to keep moving up. That's .24 hits per game, or one
extra hit over every 4 games I played. Not much is it?
So how far could I have gone? Who knows. Any ballplayer will tell you that there is very little difference between a Major League Player and a Minor League Player.
Sometimes a maddeningly minute difference, like Crash Davis taught us:
I know the juice would have helped me. But I would have been a cheater. And I would have known I was cheating. No different than a guy who cheats in school and gets A's. Or a person that cheats on Wall St. and makes millions. I have no regrets. It was never a thought. I just wasn't good enough. Nothing wrong with that. But that is not what happened with many players during the era. They screwed up the game for everyone who did it the right way.
So I'm with Verducci. NEVER should any of those players get in the Hall of Fame. They stained the game. They may have gotten their money, and some may have gotten away with it. But they cheated. And they know it. That is not how this game is supposed to be played.