As expected, the SEC dominated National Signing Day.
But if there is one class that bettered their football team this morning, it was the Ole Miss Rebels.
For a squad that finished last season with a 7-6 record and merely two wins the year before that, today could have marked the start of a new era.
Head coach Hugh Freeze started the morning at 6:30am with the #12 recruiting class in the nation as told by ESPNU. By 10am, Freeze's class would be in the top five.
It all began at 6:45am when the #1 high school player in the country, defensive end Robert Nkimdiche, stood at the podium and told the nation that he was going to 'The University of Ole Miss".
As an Ole Miss Alum, that's not even remotely close to the name of the school but I could care less.
Freeze had family on his side to sign Nkimdiche. His older brother was a freshman all-american for the Rebels this past season and was by his side when Robert announced.
(Robert & Denzel Nkimdiche)
Ole Miss knew weeks ago that it was very likely that the #1 wide receiver in the nation Laquon Treadwell out of Crete, Illinois would sign. With the high octane and fast paced offense that's run in Oxford, Treadwell should perform very well along side 'soon-to-be' junior Donte Moncrief and 4-star WR Quincy Adeboyejo, who inked his name on the dotted line as well.
The madness was just getting started.
At 8:40am, the #1 offensive lineman in the country committed to be a Rebel in Laremy Tunsil.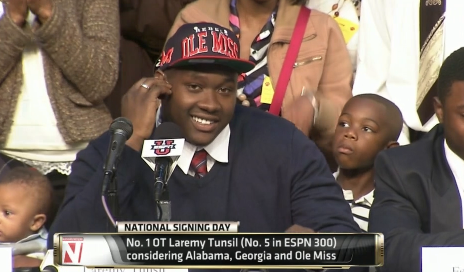 Tunsil, a 6-6 320 pound offensive tackle out of Lake City, Florida, will be a key piece in cementing a solid offensive line upfront. And he will get help from 4-star OL Austin Golson who Ole Miss lured away from Florida State.
To top things off, 5-star safety Tony Conner out of Batesville, Mississippi decided to head to Oxford too.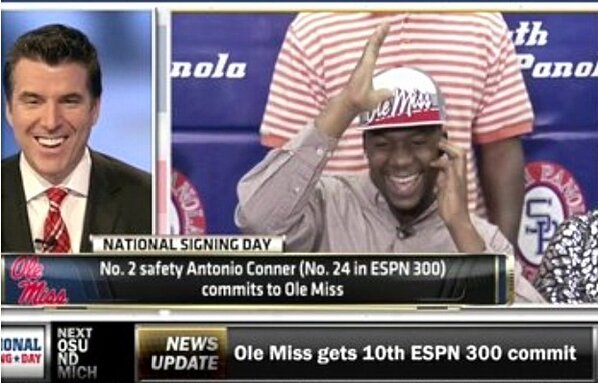 Ole Miss Play by play announcer tweeted this out at 9:30am this morning.
And ESPN analyst Kirk Herbstreit brought up what critics might say.
All and all, Ole Miss did outstanding today
But the quote of the day came from ESPN's Colin Cowherd.
Colin, I can't argue with you.
Follow Zach on Twitter @Bada_Bingham
Photos courtesy of Rivals, ESPN, Twitter