March 12th, 2013 marks the first offical day of free agency.
Mike Muchak will be coaching like this is the last year of his contract, which doesn't run out until 2014, and with the Titans coming off of a six win season, changes are inevitable.
The team promoted their offensive coordinator Dowell Loggains, hired former Mississippi State head coach Sylvester Croom as running backs coach and introduced Greg Williams as a senior defensive assistant coach.
They feel they have better coaches. The next step is getting better players.
Statistics from last season imply that Tennessee needs help in a lot of different areas. In a series of articles, I thought it would be interesting to take a look at some of the players in the open market that can help Munchak & company.
We start at running back.
The team just committed a guaranteed $9 million to Chris Johnson but every starter needs a backup. Javon Ringer is set to become a free agent and it doesn't appear Tennessee is going to re-sign him.
Ahmad Bradshaw (NYG) – Old, but a thousand yard back 2 out of the last 3 seasons. Reports have him interested in going to the Jets. Why, I don't know? Bradshaw would bring a fire to a Titans team that lacks even a pilot light. Unfortunately, I don't see this happening.
Reggie Bush (MIA) – Has been productive in Miami but is too much like CJ. Plus, a team can't have that much $ invested in your running backs. The Dolphins paid Bush $4.2 million last season. Miami is in the process of re-building, I think Bush is a part of that process. Won't land in Nashville.
Shonn Greene (NYJ) – I think it is an interesting look. Only made $615K last season with the Jets and brings the downhill running style to offset CJ's speed. But I doubt Greene wants to remain a backup even though that is exactly what he is.
Felix Jones (DAL) – Another bad pick by Jerry Jones. Dallas probably won't re-sign him. Could help in the Titans return game with questions about Marc Mariani but don't expect to see Felix donning the Titans blue.
Cedric Benson (GB) – A reasonable signing because of age and cost but Benson only played 5 games last season for Green Bay and has had recent off the field issues. Don't want to see Benson and Britt together…at all.
Peyton Hillis (KC) – Like Greene, Hillis had flashes of greatness a few years ago and maybe a change of scenery would help. KC obviously was not the answer. Hillis made $1.2 million last season so a pay cut would be coming. Not a bad pick up for Tennessee if they decide to go in that direction.
Rashard Mendenhall (PIT) – Inconsistent. That is the book on Mendenhall. He went from over 3,000 rushing yards in 3 seasons, to just 182 this past year in 5 games. A new uniform could do him some good.
Danny Woodhead (NE) – I don't think Woodhead is what the Titans are looking for. They already have a small and shifty back in their backfield.
Tight end is a position that is up in the air. Jared Cook is a free agent and if Tennessee does keep him, a franchise tag is expected to come with it.
If not, these are the free agents to look at. I don't think Taylor Thompson is going to be the next Jason Witten. But that's just me.
Dustin Keller (NYJ) – Heading into his 5th year, Keller is a sizable tight end with hands. Mark Sanchez didn't complete many passes but when he did, they seemed to wind up in the hands of Keller. Reports have the Jets pushing to re-sign him.
Fred Davis (WAS) – Stepping into the starting role to replace long time TE Chris Cooley, Davis had a great start to the 2012 season before tearing his achillies tendon. Reports have Davis testing the market. Could be a good fit but depends on how rehab is going with the foot.
Martellus Bennett (NYG) – Bennett worked well with Eli Manning in 2012, catching 5 TDs and was a reliable check down time and time again. The 6-6 265lb TE would no doubt bring size to the Titans OL. Tampa Bay may be in the mix as they try to resign his brother (Michael) this offseason though.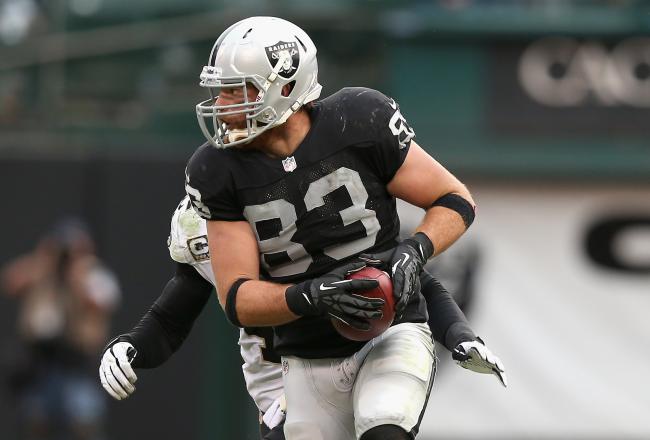 Brandon Myers (OAK) – Myers had 800+ yards receiving off of 79 receptions this season in Oakland. Yes, in Oakland. He will need a pay raise though. Only made $565K last season but if the Titans decide to get rid of Cook, Myers would be a good choice.
Delanie Walker (SF) – A smaller, compact tight end who is more of a blocker would help Tennessee's offensive line. But Craig Stevens signed a 4-year, $15 million contract last year to block. Walker is not an option.
Follow Zach on Twitter @Bada_Bingham
Photos courtesy of ESPN.com, arrowheadpride.com, AP, bussinessinsider.com, bleacherreport.com