After weeks of uncertainty and a couple of 'no thank yous', athletic director Dave Hart has found his guy, Butch Jones.
Jones started his coaching career as a graduate assistant in 1990 for Rutgers, before making stops at Wikes and his alma mater Ferris State. Central Michigan hired him as a tight ends coach, then running backs coach, before making him offensive coordinator in 2002.
From 02' until 04', the Chippewas were 11-24 with Jones running the offense. And then worked under Rich Rodriguez in 2005 and 2006 at West Virginia.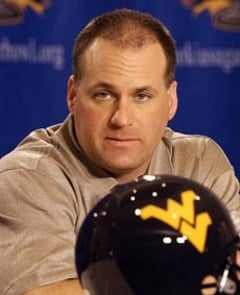 In the two years under Rodriguez as wide receivers coach, the Mountaineers ranked in the top ten nationally with a 22-3 record and an offense that averaged 35.5 points per game.
Jones then went back and got his head coaching debut with Central Michigan from 2007-2009, going 27-13. In those three years, Jones coached a quarterback by the name of Dan LeFevour to three straight bowl games. LeFevour was named the MAC Offensive Player of the Year in 2007 and 2009, plus holds the conference record for total offense in a career. Tennessee hopes Jones can recruit a talent like LeFevour to excel them to the top of the SEC East. Jones then left The Great Lakes State for Cincinnati.
Replacing Brian Kelly was a tough task in Jones' first season, going 4-7 and finishing 7th in the Big East. But a 10-3 and 9-3 record in his last two years with the Bearcats, averaging 31.5 points per game, gave Jones a solid resume in the eyes of Dave Hart.
Tennessee would love the same nine-plus win success from Jones in the SEC but defense will be the key. The Vols staff that is put in place will drive how far the program goes.
The 44-year-old Jones interviewed for the Colorado and Purdue head coaching vacancies before Hart came calling. This is Tennessee's fourth head coach in the last six seasons.
It will be interesting to see if quarterback Tyler Bray and wide receivers Justin Hunter and Cordarrelle Patterson return to play under a new head coach.
Or if Jones will to start his Rocky Top reign with his own regime.
(Already up on the UT website)
Follow me on Twitter @Bada_Bingham