If you are a Tennessee fan today, uncertainty is the only emotion that could be running through your mind.
Athletic director Dave Hart put down an annual $3.5 million dollar contract to coach in the SEC and Louisville's Charlie Strong said no. Oklahoma State's Mike Gundy has pulled his name out of the search and Jon Gruden squashed the Rocky Top rumors, what feels like weeks ago.
What is Hart not selling?
Knoxville is a college city, not town, bleeding orange with a fan base yearning to love someone that will win. The past heroes are gone. Fulmer, Summitt, Peyton and even Pearl, all gone.
It's not the lack of money.
Tennessee has committed millions upon millions to the football program, including a huge deal with adidas, brand new facilities and oh yeah, a stadium that holds over 102,000 people.
Hart can't get this wrong or end up settling for a coach that is not a proven winner. That has already been done with Derek Dooley.
Just by the numbers game, next in line appears to be Larry Fedora from North Carolina. Fedora has only been a head coach since 2008, where he went 34-19 with Southern Miss and led the Eagles to four straight bowl games. This year without Fedora, Southern Miss did not win a single game, 0-12.
Fedora went 8-4 in an underperforming ACC this year.
Is it time for Hart to throw everything out the door and consider Bobby Petrino?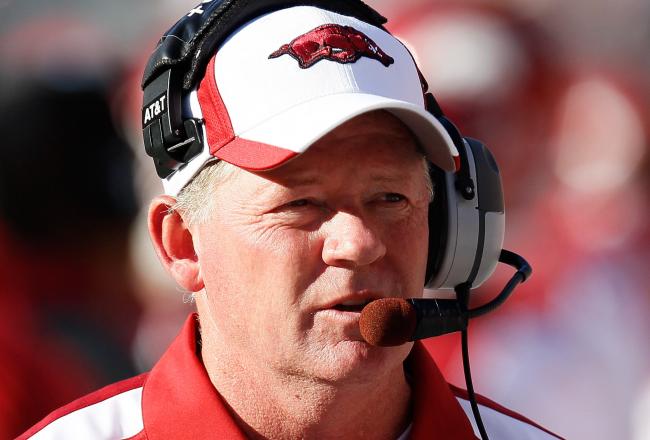 The Tennessee faithful knows that Petrino can win but also realizes the baggage that goes with him. If no one has been willing to take the Vols job because they've been secure in the situation that they are in, maybe you take a chance on a guy that has no security.
I think the third tier guy is Western Kentucky's Willie Taggart.
USF has made a strong push but this will be a drastic blow to Tennessee fans to get another unproven coach. Plus, that would pull Taggart away from his alma mater, which is always difficult to do.
My bet is Fedora takes the job because he hasn't yet built a bond with North Carolina and can spend a substantial number of years in the Smokies, growing a SEC program.
Follow me on Twitter @Bada_Bingham